MANAGER PROFILE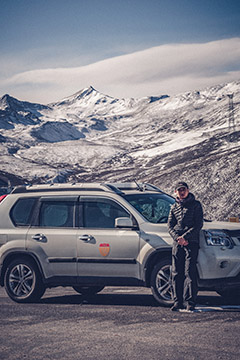 --------------------------------------------------------------------------------
Dear Friends,
We at CYTS,in partnership with the Tibetan Nature Protection Fund ,believe that adventure travel to Tibet stimulates environmental awareness in this region, awareness of the importance of preserving the environment.One of the problems in wilderness preservation worldwide is that local populations living on the edges of the wilderness often have a status - guo relationship with the land that,due to increasing population and increased grazing,is no longer sustainable.The presence of outsiders who have a keen interest in the land they are visiting and a strong knowledge of global environmental problems is an important influence on local attitudes.
When Travel groups are scientific in nature,valuable suggestions are put forward to address environmental needs.But even in the case of pure adventure travel,the participants are usually concenned citizens of the world whose presence in China Southwest can only help.We invite you to come and see and experience the unique land that is China Southwest,unique not only because of its culture but also because of its high - altitude wilderness areas.We are sure that your prsence here will help China Southwest.
Sincerely yours,

--------------------------------------------------------------------------------
Summary to Mr.Yang Jie:
Once being the network manager and senior leader of the Scientific Expedition Department of China Youth Travel Service (CYTS), and the secretary and the GM assistant in a financial company.
2000-today: be the sole assistant of the famous explorer Yang Yong and visit many mountain areas of the southwest China, and know the way of rational expedition and the way to live.
2000-2002: 10-odd times led expeditions to Tibet from Sichuan-Tibet、Qinghai - Tibet、Yunnan - Tibet in different seasons ,
2002: went to the northwest areas of Yunnan of China as the senior manager, and lived there for 2 years ,
2004: made a four-month visit to the scenic spots of Yunnan , an ecosystem investigation of the Min River Sichuan ,
2005: made a research into bird categories along the Yalong River of Sichuan Liangshan, scenic spots item survey of Yanzigou of Mountain Gongga .
2006-2009:Scientific research on source regions of Yangtze River, Yellow River and Lancang River (Civilian scholars' survey on China South-to-North Water Diversion Project)

After the first expedition in 1998, He joined CYTS in 2000 and began the professional expedition career as a member of Scientific Expedition Department. During these years, He got to know many scholars from different fields like expedition, photography, biology, plant, ornithology, geosciences, culture, environmental protection, glacier and so on, and knew how to design different tours in accordance with the requirements of the explorers.